The Crane Valley is a great place to explore – whether you live locally or are travelling to the area from further afield. The river corridors provide open space for recreation and relaxation, with a wide range of parks, nature reserves, trail routes and heritage features to enjoy. Although not always conspicuous, the rivers of the Crane Valley pass through, or close to, many residential areas, bringing nature and amenity within walking distance of local communities.  The Crane Valley is well served by public transport links and footpaths – many key recreational sites along the river corridors are close to a mainline rail or London Underground station or on a bus route. 
Hub Sites
There are several 'hub sites' dotted along the river system that are great places to visit in themselves but which can also act as gateways for wider expeditions. Some of these offer visitor facilities such as a cafe, toilets, and car parking.
Click on a number on the map to find out more information.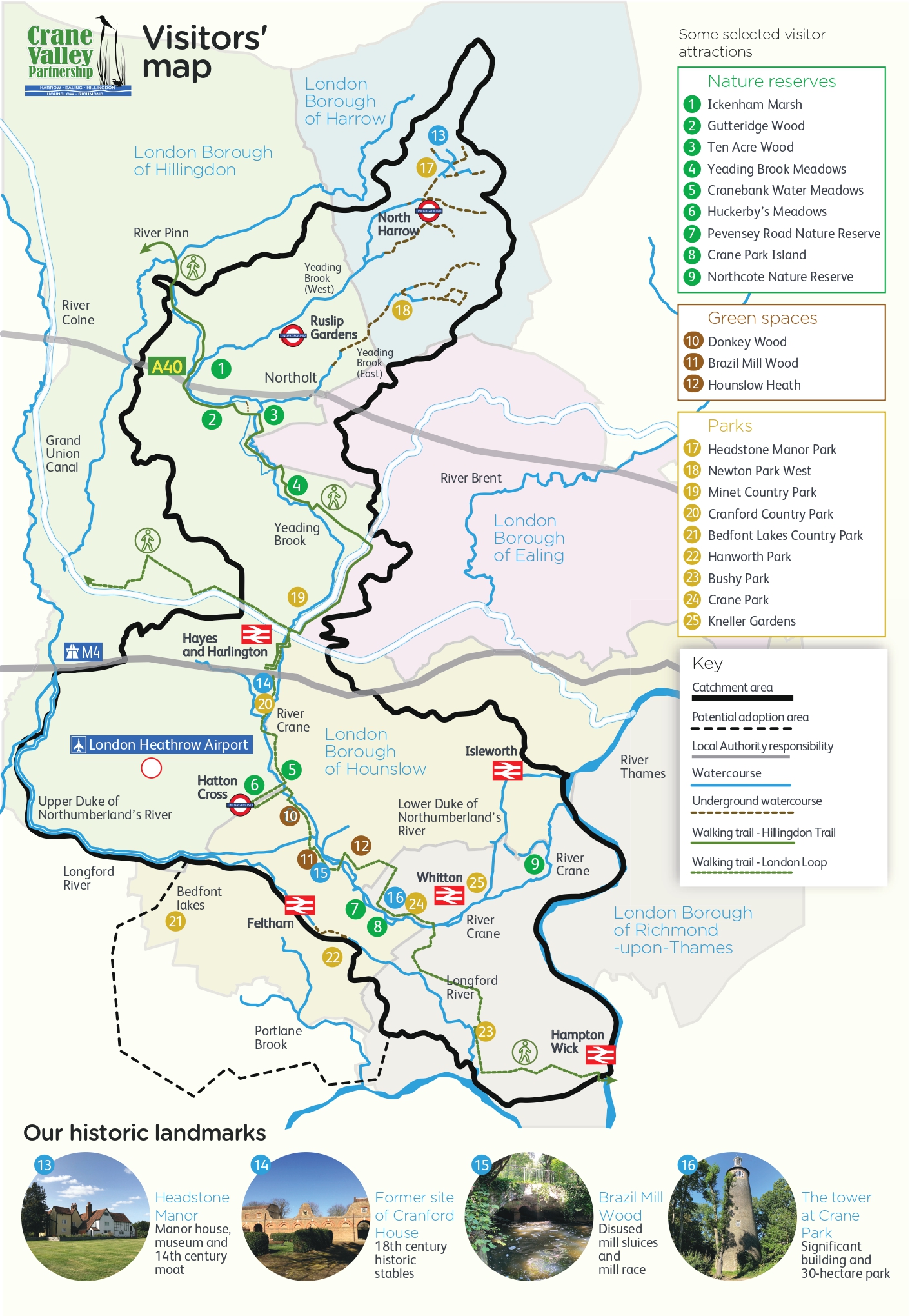 Headstone Manor Park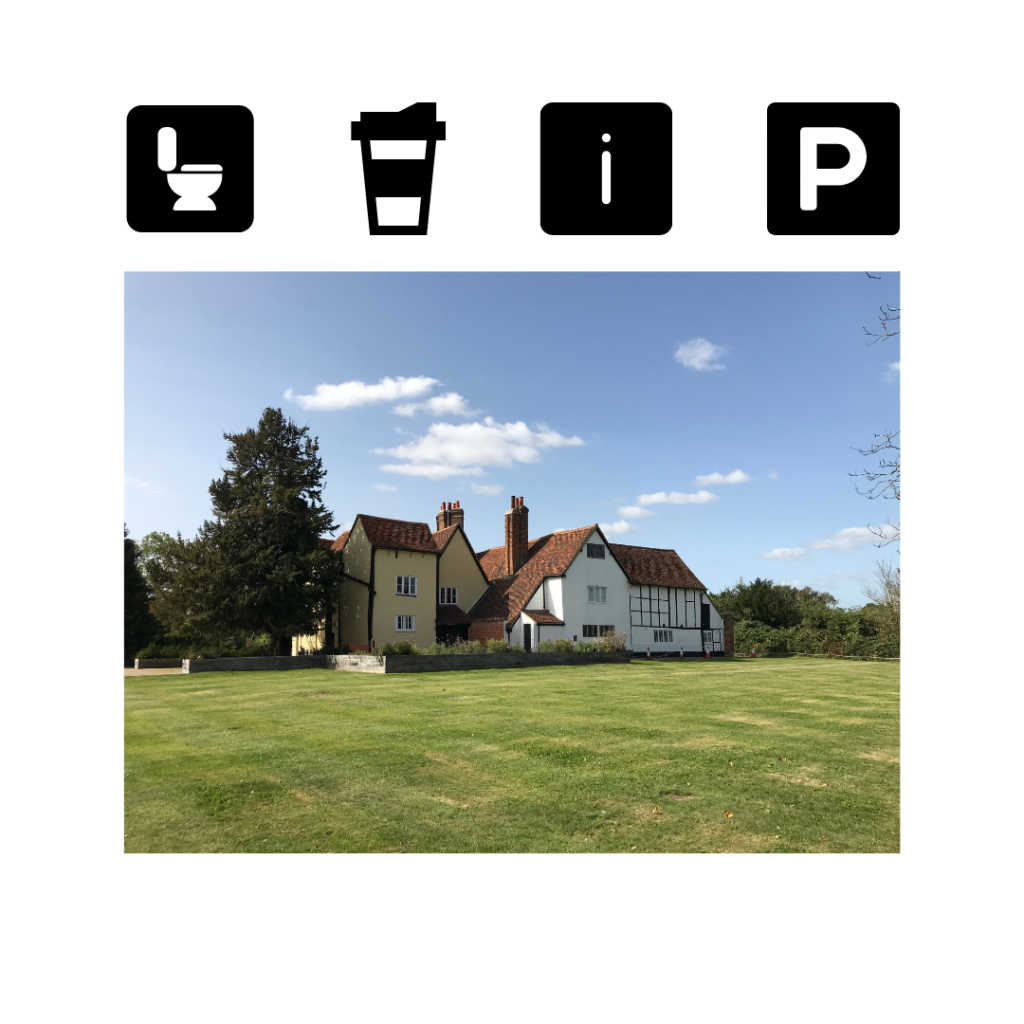 Toilets: Every day except Mondays
Cafe: Every day except Mondays
Heritage Feature: Medieval manor house and moat. The Headstone Museum (11-3 am Thursday-Sunday)
Nearest Station: North Harrow (London Underground)
Located in Harrow at the top end of the western arm of the Yeading Brook. There is a medieval manor house here with a moat, a museum and a children's play area.
Newton Park West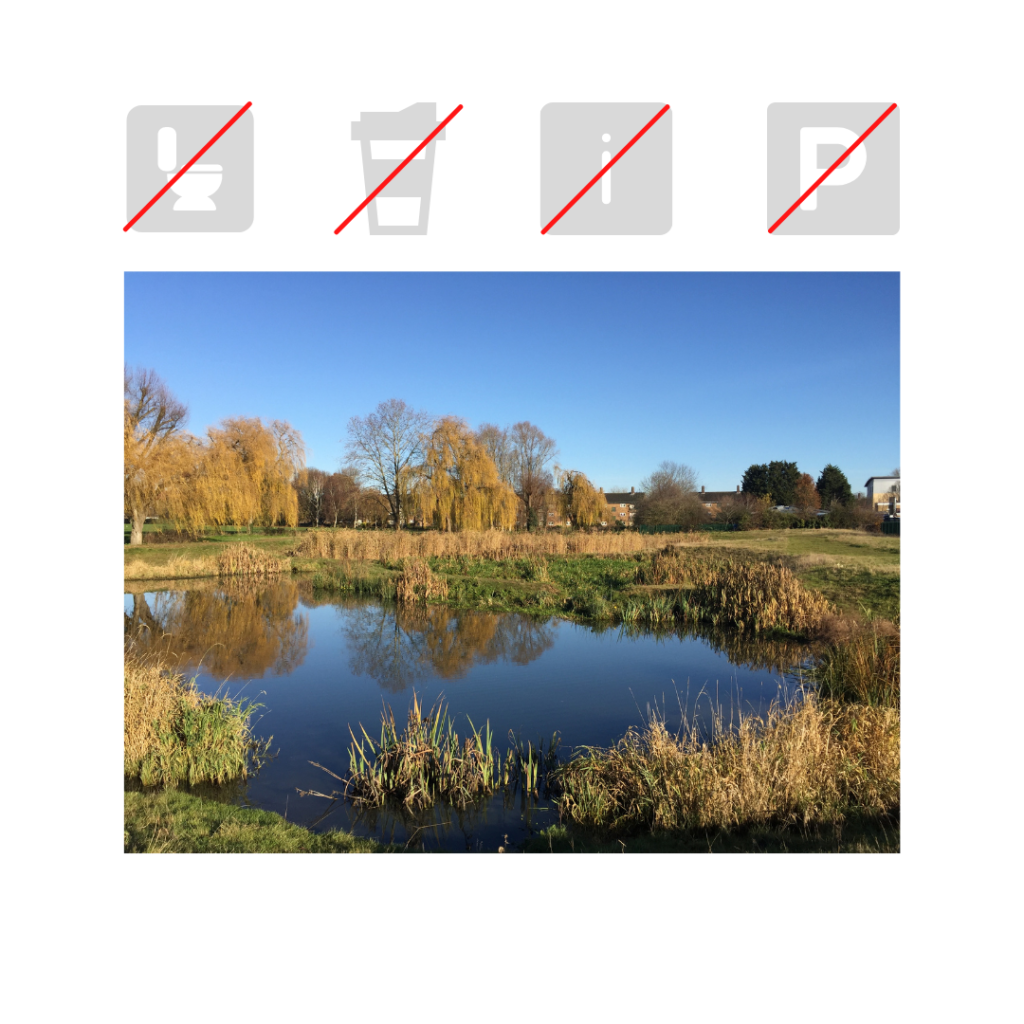 Nearest Station: Rayners Lane or South Harrow (London Underground)
Located in Rayners Lane, this park is a good place to view the eastern branch of the Yeading Brook which in many other places is obscured from view. There is a constructed wetland at the park which helps to purify the water.
Minet Country Park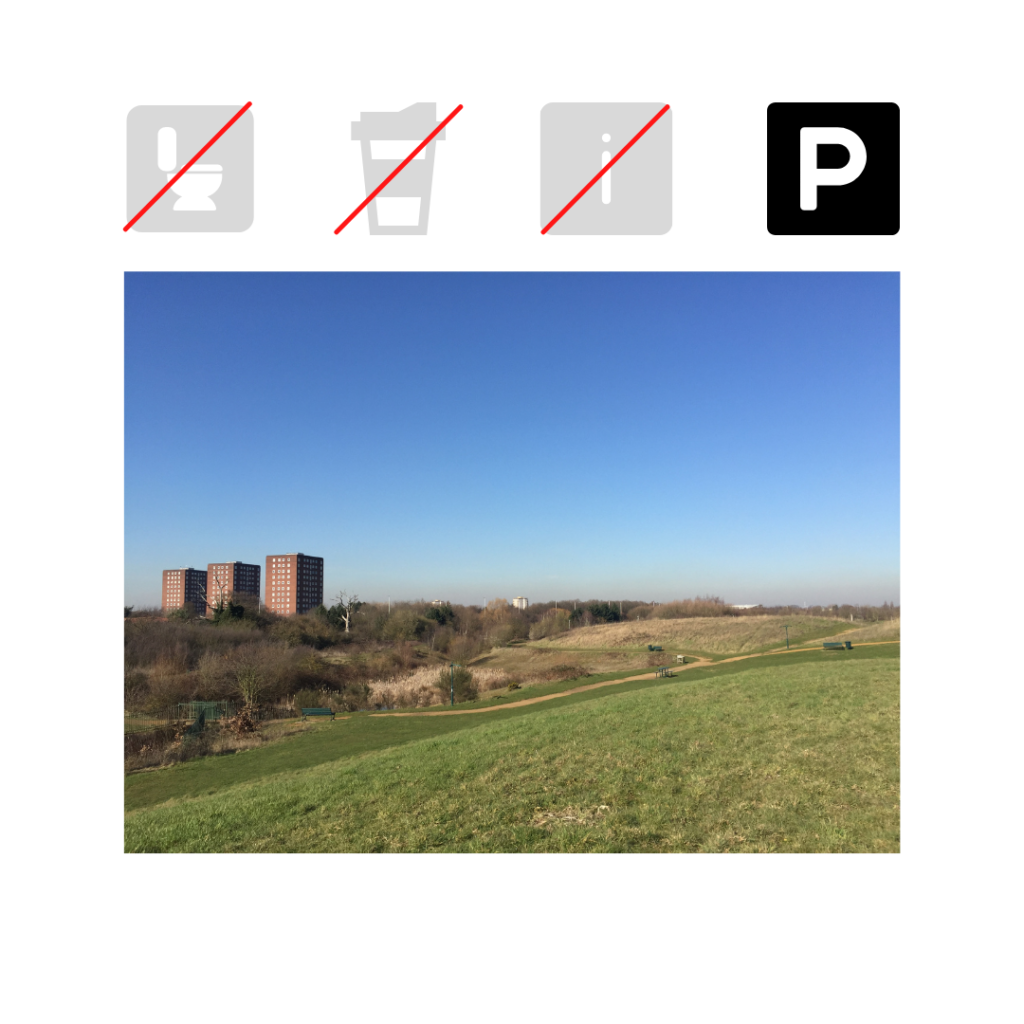 Nearest Station: Hayes and Harlington or Southall (Nation Rail)
Located on the Yeading Brook at Hayes. There is a public cycle track.
Cranford Countryside Park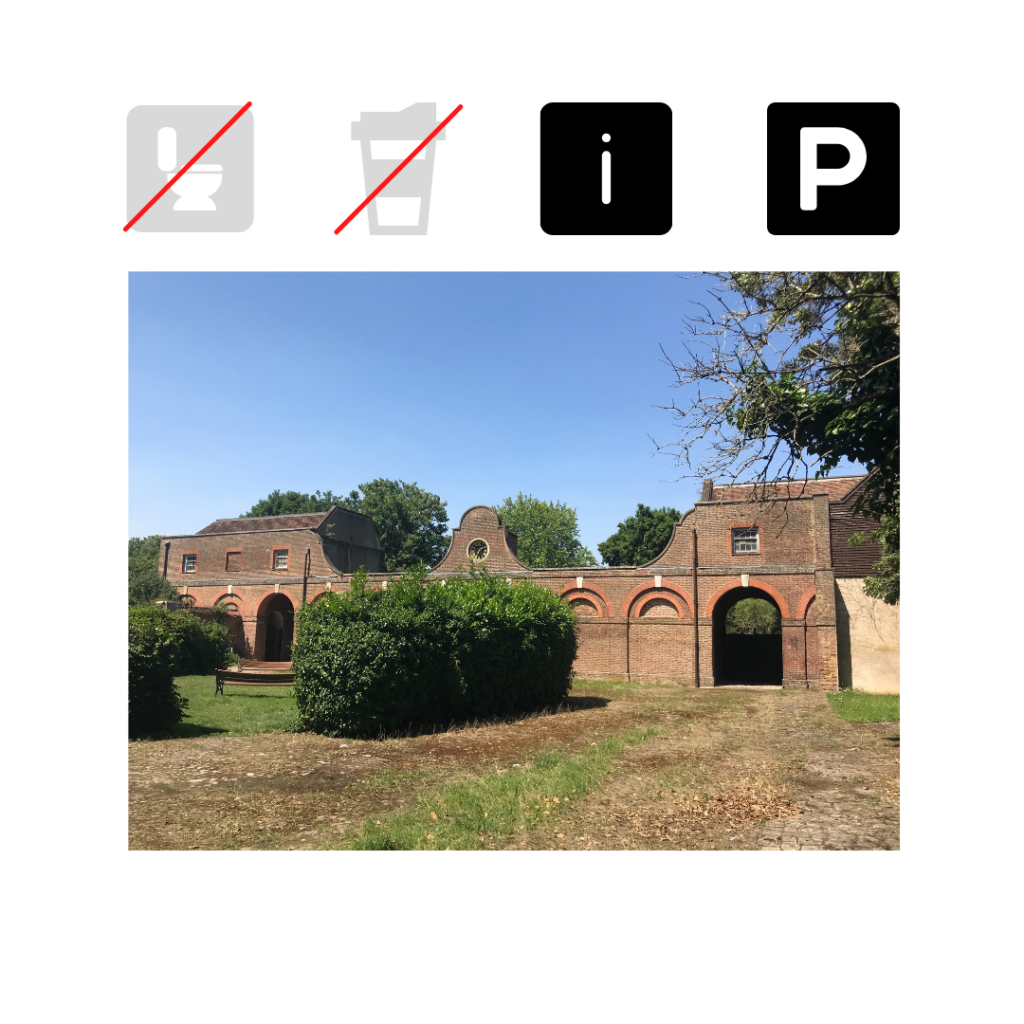 Toilets and Cafe Coming Soon!
Heritage Feature: The Stables and the cellars of the former Cranford House
Nearest Station: Hayes and Harlington (National Rail) or Hatton Cross or Hounslow West (London Underground)
Located on the River Crane close to the M4, this historic site at the southern end of the Hillingdon Trail was the former home of the Berkeley family. A major Heritage Lottery Fund project is set to restore the historic core of the site and also provide a cafe and toilets in the near future.
Crane Park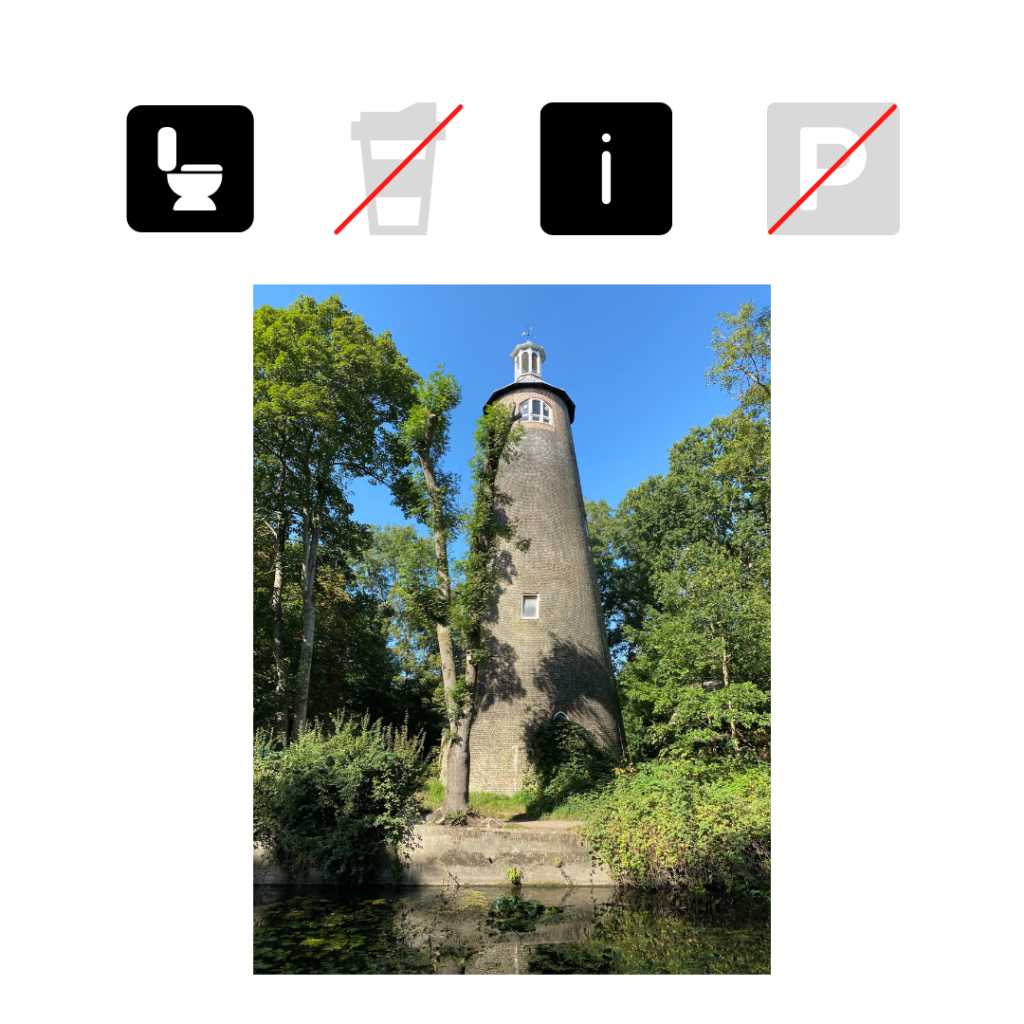 Toilets: LIMITED to Sunday afternoons only (1.30pm-4.00pm when the Tower is open)
Heritage Feature: The tower at Crane Park Island (a remnant of the former Hounslow Gunpowder Mills). Open Sundays, 1.30pm-4.30pm.
Nearest Station: Feltham or Whitton (National Rail)
A large and leafy park on the Crane in Whitton, with an on-site nature reserve at Crane Park Island. The historic tower -  a vestige of the former gun powder mill that was once located here - is perhaps the Crane Valley's most iconic heritage feature.
Kneller Gardens
Heritage Feature: Start of Lower Duke of Northumberland's River
Nearest Station: Whitton or Twickenham (National Rail)
Just downstream from Crane Park, this lovely park is located where the Lower Duke of Northumberland's river splits away from the Crane.  There is a cafe, toilets and a children's play area.
Bedfont Lakes Country Park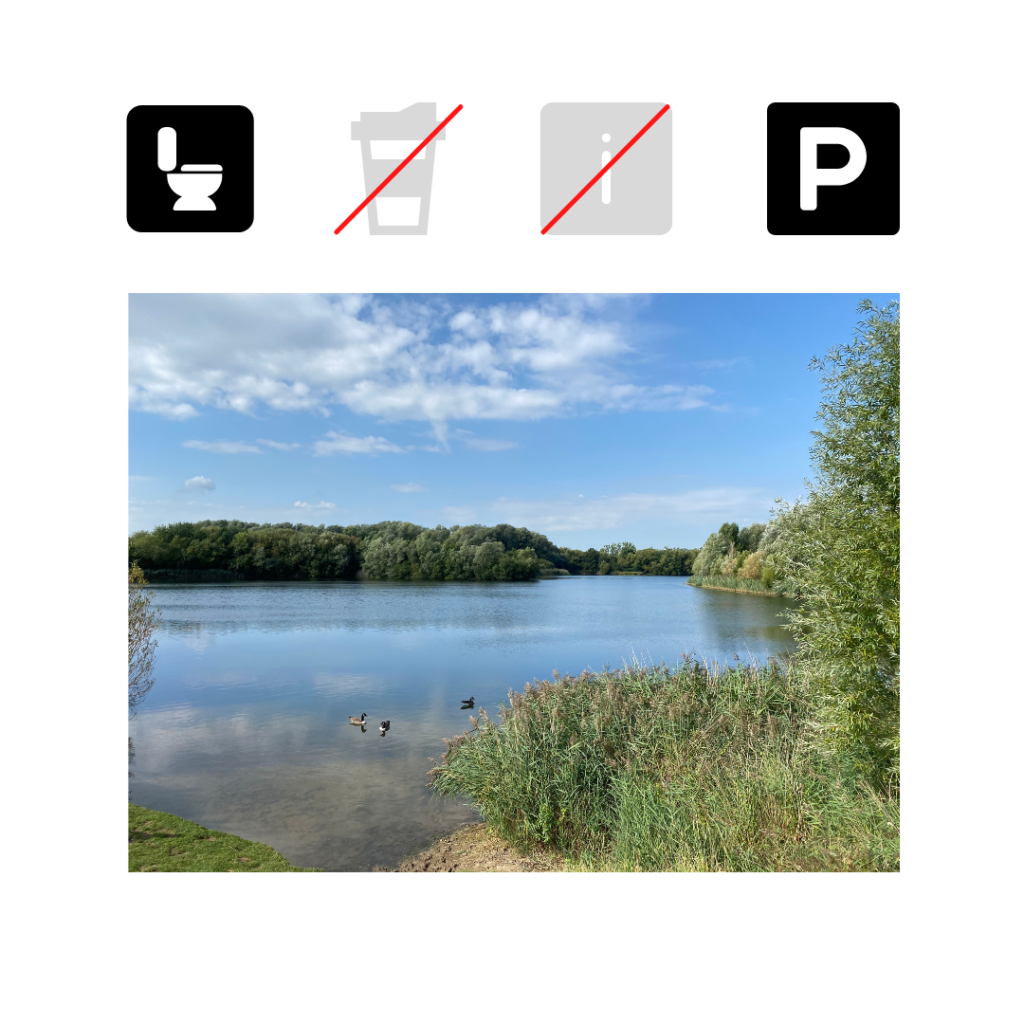 Nearest Station: Feltham (National Rail)
Recreational Routes
Parts of the River Crane and Yeading Brook are on well established recreational routes. The London Loop, Dog Rose Ramble and Hillingdon Trail all have sections that lie within the Crane Valley and they provide a great way to explore the river system on foot. These routes are clearly marked on 1:25 000 OS Explorer maps of the area. Click here for Information on London Loop Section 9 (Kingston Bridge to Hatton Cross) and London Loop Section 10 (Hatton Cross to Hayes and Harlington). The Willow Tree Wander route follows the western branch of the Yeading Brook  between North Harrow and Ickenham Marsh.  
Some informal walking routes have been devised and mapped by the Friends of the River Crane Environment (FORCE). These include: 
The Three River Walk

The Feltham Loop Walk

Crane Park to Hounslow Heath

Donkey Wood & Brazil Mill 

Dragonfly Trail

Lower Crane Valley 

The Duke's River Walk   

The Feltham Loop Walk

The Three River Walk
All of these maps can be downloaded for free from the FORCE website here.         
As well as providing local recreational opportunities, the footpaths and cycle paths along the river corridors of the Crane Valley collectively provide a wider active transport connection – helping to link the River Thames in south west London with the Colne Valley Regional Park and the Chilterns AONB. 
Nature Reserves
There are a number of lovely riverside nature reserves in the Crane Valley, providing opportunities to see landscapes and wildlife that might not normally be encountered in the bustling urban setting of West London. Six of these sites are managed by the London Wildlife Trust: Ickenham Marsh, Gutteridge Wood, Ten Acre Wood, Yeading Brook Meadows and Huckerby's Meadows and Crane Park Island (on the Crane). 
Other riverside nature reserves are managed by local authorities and include Cranebank Water Meadows, Hounslow Heath,  Pevensey Road Nature Reserve, Mereway Nature Reserve and Northcote Nature Reserve. At Elephant Park, near the Yeading Brook in Hillingdon, there is a new 'Nature Hub' site.  And there is also a nature reserve at Bedfont Lakes Country Park.
Other Open Space Destinations 
As well as parks and nature reserves, the Crane Valley has several other noteworthy riverside green spaces that are well worth visiting on foot or by bike.  
Donkey Wood and Brazil Mill Wood are large wet woodland sites in the North Feltham area and both are being enhanced to provide an improved visitor experience as well as more habitat for wildlife.  There is a footbridge connecting Brazil Mill Wood with Hounslow Heath, and all three sites are on the London Loop.         
If you are looking for a walk through more open countryside, the section along the western arm of the Yeading Brook between Ruislip Gardens and the A40 may fit the bill, with its fields, hedgerows and grazing livestock. The southern section of this stretch (between Ickenham Marsh and the A40) is on the Hillingdon Trail.